Street Boss X Belvedere
---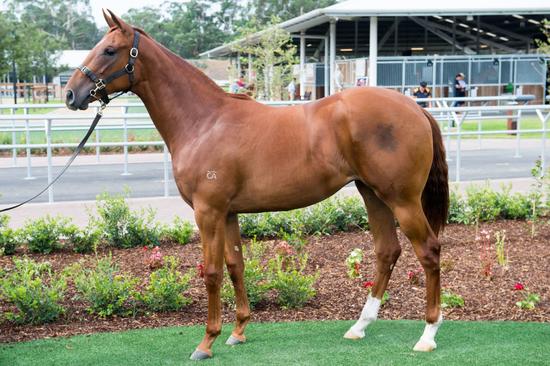 Sire: Street Boss
Dam: Belvedere
Colour: Chestnut
Gender: Filly
Age: 2 year old
Foaled: Oct 13th, 2016
---
Pedigree
CHESTNUT FILLY (AUS)

Foaled 13th October 2016

---

| | | | |
| --- | --- | --- | --- |
| Sire | Street Cry | Machiavellian | Mr. Prospector |
| STREET BOSS (USA) | | Helen Street | Troy |
| 2004 | Blushing Ogygian | Ogygian | Damascus |
| | | Fruhlingshochzeit | Blushing Groom |
| Dam | Octagonal | Zabeel | Sir Tristram |
| BELVEDERE (AUS) | | Eight Carat | Pieces of Eight |
| 2002 | Mythos | Imperial Prince | Sir Ivor |
| | | Our Fable | Peter's Yarn |

---

STREET BOSS (USA) (Chestnut 2004-Stud 2009). 7 wins to 7f, Del Mar Bing Crosby H., Gr.1. Sire of 562 rnrs, 397 wnrs, 31 SW, inc. The Quarterback (VRC Newmarket H., Gr.1), Cathryn Sophia, Decked Out, Danza, Capo Bastone, Rapper Dragon - Street Rapper (Aust.), Holy Boss, Hence, Petits Filous, Tris, Metaboss, Scarlet Billows, Thiamandi, Ploverset, Balk, Bebhinn, Get Rhythm, Street Surrender, Tougherthantherest, Big Handsome, Right Hand Man, etc.

1st dam

BELVEDERE, by Octagonal. Unraced. Half-sister to THACKERAY, FAIRYTALES (dam of PARABLES), Mythological, Berengaria (dam of POLITENESS). This is her eighth foal. Dam of four foals to race, two winners, inc:-

Crackerjet (g. by Jet Spur). 2 wins at 1200m, 1400m, 2d BRC Racezone National Apprentice Series P.

Bella Fortuna (f. by Bradbury's Luck). Winner at 2200m in Aust.

Battle of Britain (g. by Jet Spur). Placed at 3, 2d ATC Ascot Club P.

2nd dam

MYTHOS, by Imperial Prince. Raced once. Half-sister to RANCHO CLASSIC. Dam of 11 foals, 7 to race, 4 winners, inc:-

THACKERAY (At Talaq). 5 wins-1 at 2-from 1450m to 1800m, A$393,840, VATC TS Carlyon Cup, Gr.2, VRC Blamey S., Gr.2, AJC Coogee Flying Welter H., SAJC Balthasar 2YO H., AJC Korean Consultate H., 2d SAJC Canonise 2YO H., AJC UNSW/Alumni Shield H., Liverpool City Cup Festival H., MVRC Franklins Fresh H., 3d VRC Australian Cup, Gr.1, SAJC Barmax H.

FAIRYTALES (Night Shift). 6 wins to 1500m, A$136,485, AJC Toy Show H., L, Accountants' H., STC Let's Play H., 2d VATC Cambria 2YO H., VRC Winter Championship Heat H., 3d SAJC Advertiser H., VATC Redding H., Sufficient H., 4th VRC Rose of Kingston S., Gr.3. Dam of-

PARABLES (Lonhro). 3 wins-1 at 2-at 1200m, 1400m, A$425,400, ATC Surround S., Gr.2, AJC Silver Shadow S., Gr.3, Cabramatta 2YO H., 2d STC Tea Rose S., Gr.2, MRC WW Cockram S., Gr.3, 3d AJC Flight S., Gr.1, ATC Light Fingers S., Gr.2, NSW Tatt's RC Furious S., Gr.2, VRC Let's Elope S., Gr.2, AJC Keith Mackay H., L, VRC MSS Security Sprint H., L, 4th ATC Sapphire S., Gr.2. Dam of-

Marble. 3 wins-1 at 2-at 1000m, 1100m, A$95,210, to 2017-18, ATC Hawkesbury Gazette H., TAB H.

Clever Hans. 11 wins from 1200m to 1800m, A$277,935, BRC NRMA Insurance Broncos H., 2d BRC Mittys H., Coffs Harbour Cup, ATC Rosehill Gardens Events Centre H., Clarence River JC South Grafton Cup, 3d Dubbo Cup, BRC DWS Hospitality H., 4th Qld Tatt's RC Tattersall's Mile, L.

Mythological (Bite the Bullet). 5 wins from 1200m to 1600m, A$182,100, QTC Bakker Diamond H., Ethereal Welter H., MRC Patrobas Welter H., MVRC Jason McCartney Mile H., STC Millennium Hotel Sydney H., 2d MVRC Scalzo Food Industries Mile H., QTC XXXX Gold H., Charlton Boy Welter H., MVRC Carlton Draught H., 3d AJC Carbine Club S., L, MVRC Kwik Lok Welter H., QTC Waterford Wedgwood Cup H., VRC Sepelt Salinger H., BTC Luxury Paints H., City Tatt's RC Matthew Talbot Hostel H., VRC Longines P.

Mythic. 6 wins from 1000m to 1600m in Aust.

Berengaria. Unraced. Dam of-

POLITENESS (Street Sense). 8 wins from 1100m to 1600m, A$1,129,800, VRC Myer Classic, Gr.1, ATC PJ Bell S., Gr.3, MRC Summoned S., Gr.3, How Now S., Gr.3, Cape Grim Beef Steaks Series Final, Gr.3, Bel Esprit S., L, 2d VRC Emirates S., Gr.1, MRC Rubiton S., Gr.2, Hilton Manufacturing H., 3d MRC Thousand Guineas Prelude, Gr.2, Geoffrey Bellmaine S., Gr.3, VRC Lexus Hybrid P., L, 4th VRC Blazer S., Gr.2, MRC How Now S., Gr.3, VRC Talindert S., L.

3rd dam

OUR FABLE, by Peter's Yarn. 10 wins to 1550m, AJC June S., L, McWilliam's Champagne H., STC Mayor of Marathon H., Lingfield Park H., Space Shuttle H., Verry Merry H. Dam of 4 foals, all raced, 3 winners, inc:-

RANCHO CLASSIC (Rancher). 7 wins-2 at 2-from 1200m to 1600m, A$153,700, Hawkesbury Gold Cup, L, Qld Tatt's RC Recognition S., L, BATC Sheraton-Brisbane 2YO H., Charlton Boy H., Todman H., Qld Tatt's RC WD Ross S.H., QTC Corinda H., 3d BATC Bernborough H., L, VRC Laurent Perrier S.H., L. Sire.

Odessa. 3 wins to 1350m, STC Oceanside H., Manly Warringah MBA H., 2d STC Camellia H., Just Blooming H., Grammar Lad H., Engadine H., 3d STC Red Car Cup.

Fagin. 3 wins at 1100m, 1200m, SAJC HSV Senator H., Clipsal Safety Switch H., 2d SAJC Class 2 H.

4th dam

BYSONIC, by Bye Bye. 6 wins to 1200m in Aust. Dam of 12 named foals, 9 to race, 6 winners, inc:-

OUR FABLE (Peter's Yarn). 10 wins. See above.